Line of TRI-BIO Natural – cleaners and detergents with natural ingredients.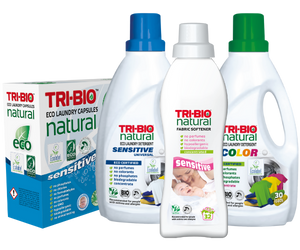 A safer alternative to harsh chemical agents. Free of harsh chemical agents, and still as effective as well-known harsh chemical cleaners. Safe to use without gloves. Recommended for people with sensitive skin and those suffering from allergies and asthma. They are all concentrated and economical in use.
Tough on dirt, but gentle on the skin and the environment.
HEALTH & ENVIRONMENTAL BENEFITS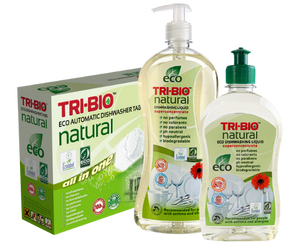 All TRI-BIO Natural line natural conform to the following standards:
Do not contain: phosphates, chlorine bleaches, abrasive substances, colorants, no perfumes. All products pH neutral. They are recommended for people with asthma and allergies. All products have low VOC's, easily biodegradable, have minimum impact on aquatic life. All packaged in recyclable packaging materials. No animal testing. All products are recommended for use with septic and other onsite sewerage system.
ALWAYS SAFE! ALWAYS GREEN! ALWAYS CLEAN!