HOME PAGE
To provide an ecological alternative to harsh chemical cleaners, of highest quality, with the same cleaning power and price levels.
"ECO that really cleans and is affordable for every consumer."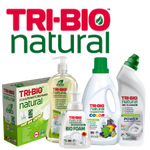 TRI-BIO Natural – cleaners and detergents with natural ingredients.
Free of dangerous chemicals, and still as effective as well-known harsh chemical cleaners.
read more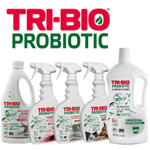 TRI-BIO Probiotic – true bio-cleaners with viable probiotic microorganism cultures. Easily penetrate cracks, crevices and surface pores, providing deeper cleaning and longer odor control.
read more
Almost the entire range of our Natural & Probiotic cleaners and other specialized products, even more effective and concentrated. Packaged in to larger professional size packages.
read more
You can purchase our products in bulk and handle packaging yourself, or let our experienced team develop successful products under your own private label. Original quality and cleaning power guaranteed.
read more